#MercedesBenzTrucks #DaimlerTrucksAG #Traidfairstand #Bauma
Turning RoadStars into rockstars
Equal encounters
The Mercedes Benz Trucks brand promise "Trucks you can trust" reappears at Bauma 2022, with METZLER VATER creating an innovative and expressive staging. It's an environment which highlights both products and, through emotionally framed communication, the brand's authentic partnership and connection with both clients and drivers.
Kunde
Daimler Truck AG
Format
Trade Fair
Plattform
Bauma 2022
Leistung
Strategy, concept, architecture, communications, design, product staging


Connecting with the target audience through emotionally resonant staging and a holistic presence at the trade fair over 2000 m2
Mercedes Benz trucks should be the heroes at Bauma 2022 in Munich – that was our mission to turn into reality at this prominent trade fair, while also ensuring an impactful brand presence. We were to consider the approx. 1,600 m2 trade fair stand and the 600 m2 outdoor space holistically as one and to create clear zones with product spotlights.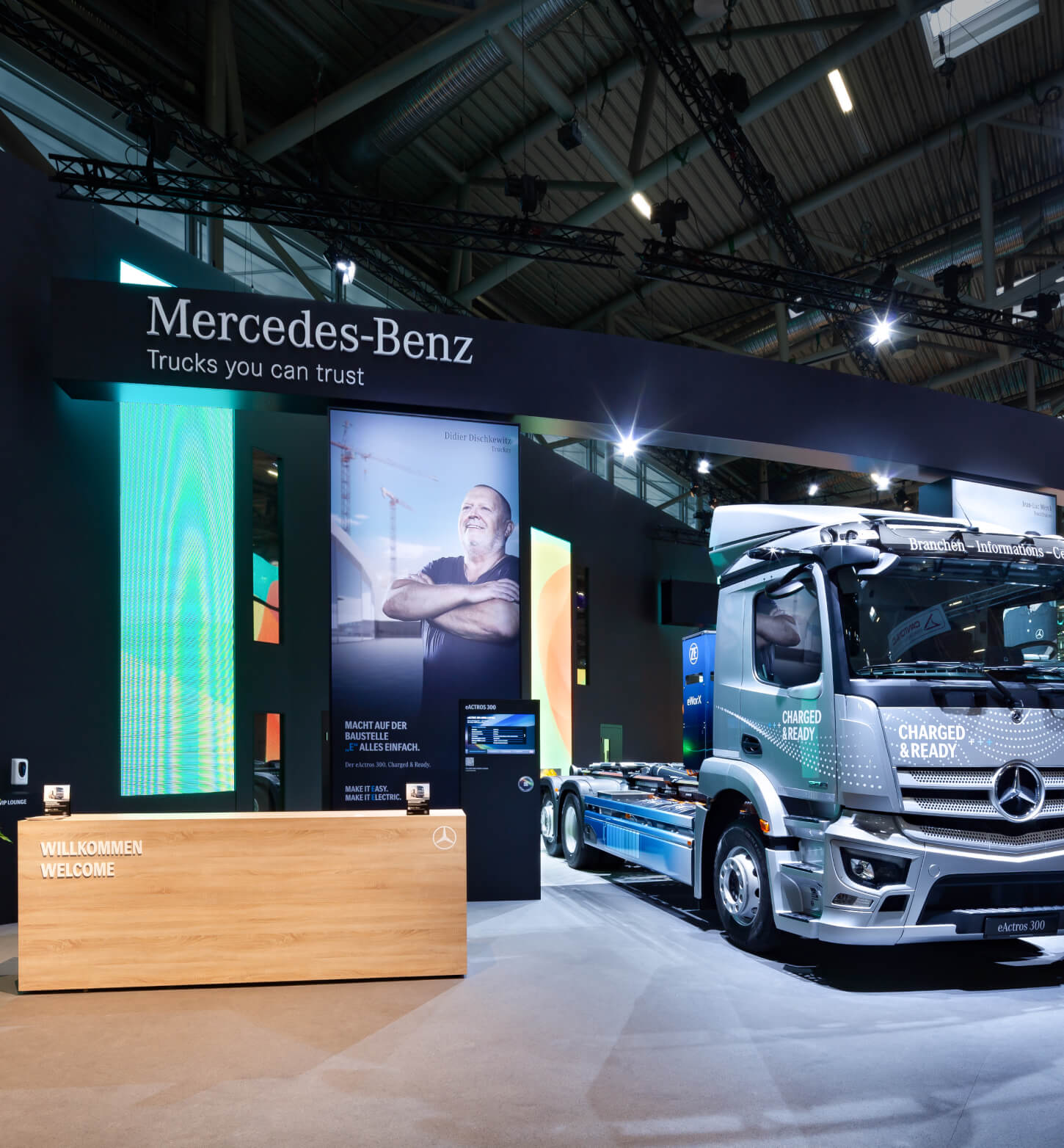 Mankind and the machine – an inseparable symbiosis
From concept and communications design to spatial planning, we succeeded in making the trade fair's overarching concept of "Mankind at the middle" tangible. This approach can be seen in and experienced through the architecture. The concept of the trade fair stand was four concentric circular pulses extending out from the centre to define the stand's four areas.
"The Centre" – the heart of the stand for meetings, community and passing time.
The "Performance Lane" – used for service questions, consultation, information and the staging of the spotlight vehicle.
The "Product Lane" – an emotionally resonant product presentation area with eight trucks and oversized image pillars featuring RoadStars.
The "Welcome Lane" – the start of a journey of discovery to be used for first contact, arrivals, welcoming and orientation.
The trade fair stand represents the fundamental symbiosis and inseparability of mankind and machine through seven larger-than-life RoadStar pillars. These pillars feature eight real-life members of the Mercedes Benz driver community – equal encounters showing that behind every truck, there is a real RoadStar.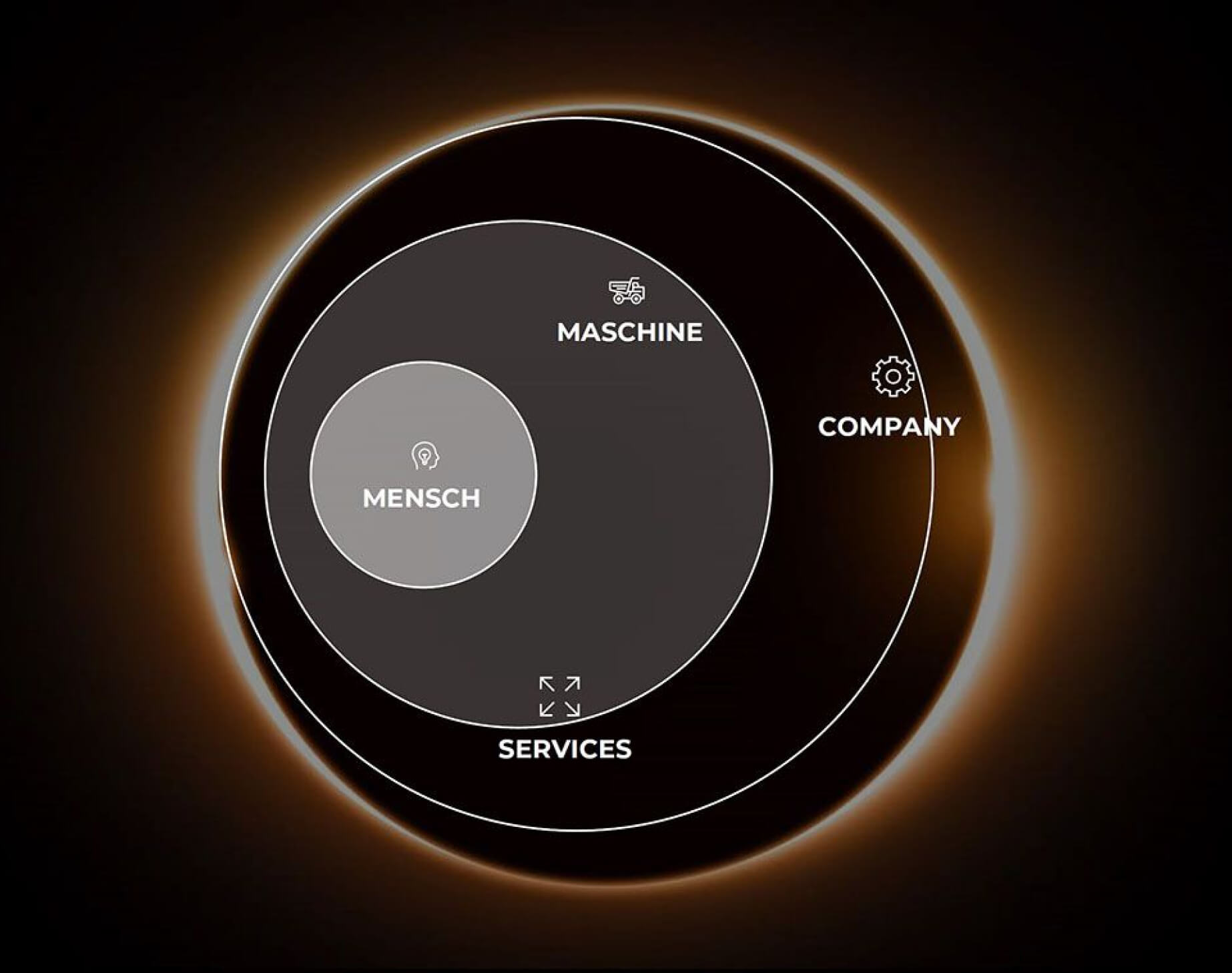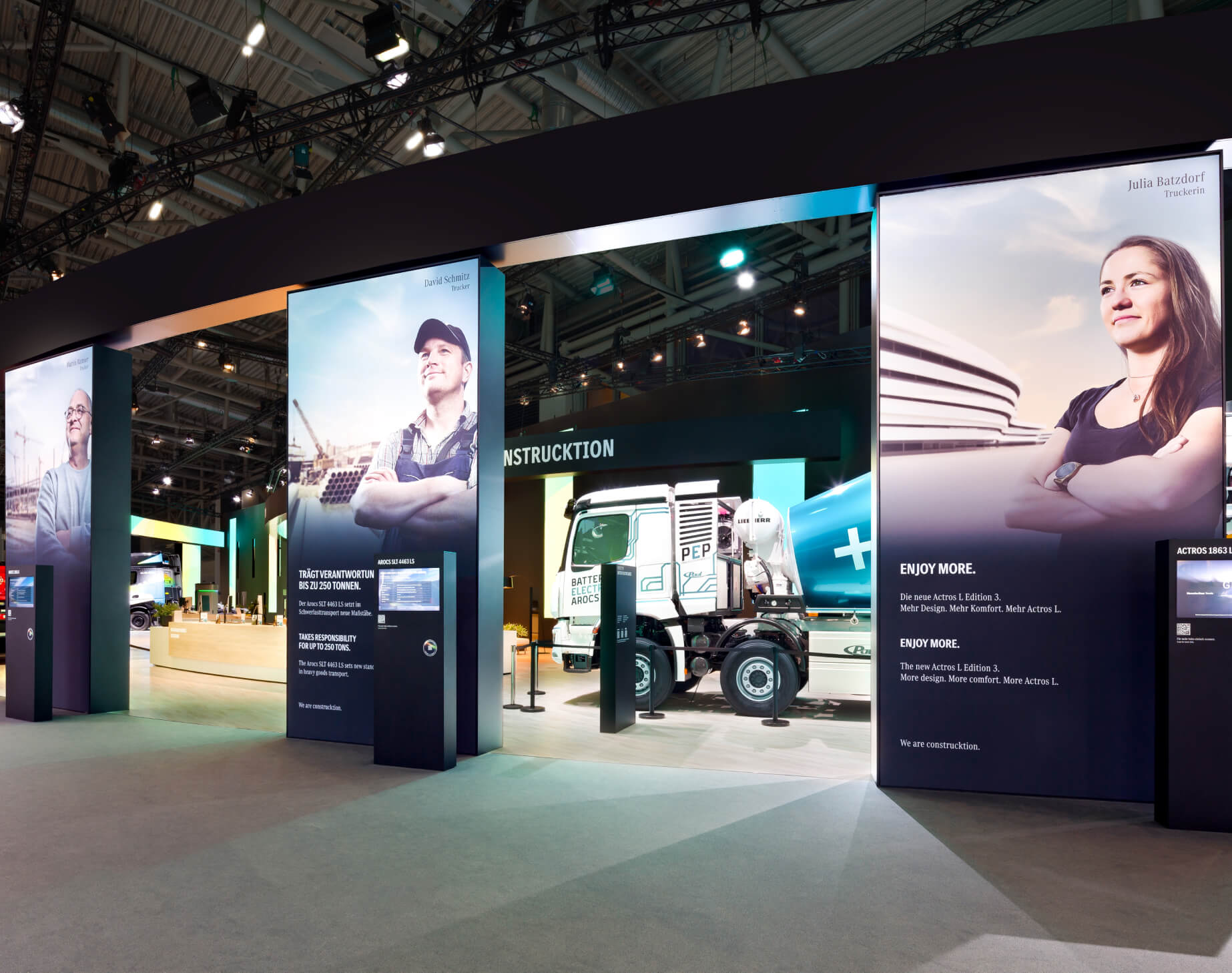 Digital media playing on a 20 m2 LED screen
Visitors experienced the stand in two different colour palettes – one from the front to the centre of the hall, showing the trade fair stand in the brand's classic black for a smooth, sleek appearance. Seen from the inside, the brand is allowed to shine with an oversized media broadcast on over 200 m2 of LED screen, animating the colour palette for the current electric vehicle campaign and giving the stand more dynamism – exciting, stimulating and digital.